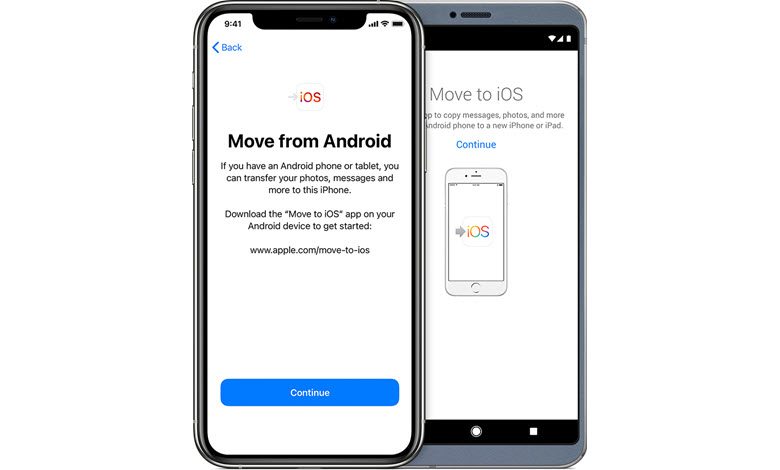 In a world where technology evolves at a breakneck pace, switching from one mobile device to another is increasingly common. The migration from an Android phone to an iPhone, in particular, might seem daunting at first. However, with the right information and a step-by-step guide, it becomes a breeze. This article aims to make your transition smooth and hassle-free, guiding you on how to transfer data from Android to iPhone.
Transfer Using 'Move to iOS' App
Setting up your iPhone: Start by setting up your new iPhone until you reach the "Apps & Data" screen. At this stage, select the "Move Data from Android" option.
Preparing your Android Device: On your Android phone, download and open the "Move to iOS" app from the Google Play Store. Agree to the app's privacy policies, grant access to your files and location, and tap "Next".
Pairing Devices: Your iPhone will generate a 6, 10, or 12-digit code. Enter this code on your Android phone to pair the two devices.
Selecting Data: Once paired, you'll see a list of data types you can transfer. Select the ones you need – contacts, messages, photos, and more – and tap "Continue". The transfer process will begin and may take some time depending on the amount of data.
Transfer Using Third-party Apps
Alternatively, third-party apps like AnyTrans can be used to transfer data. Connect both your devices to your computer, launch AnyTrans, and choose the "Phone to iPhone" mode. This app offers a simple and effective way to move your data.
FAQs
Q1: Can I transfer WhatsApp data from Android to iPhone? Yes, you can transfer WhatsApp data from Android to iPhone. You'll need to connect both devices to your computer and use a third-party tool to facilitate the transfer.
Q2: Can I transfer my text messages from Android to iPhone? Yes, text messages can be transferred using the "Move to iOS" app. Make sure to select the "Messages" option during the transfer process.
Q3: Can I transfer data from Android to iPhone after setup? Yes, even after setting up your iPhone, you can still transfer data from an Android device using third-party applications like AnyTrans.
Additional Insights
While the process of transferring data from Android to iPhone is straightforward, there are few additional points to keep in mind.
Google Services: If you heavily rely on Google services such as Gmail, Google Drive, Google Photos, etc., you can simply download these apps from the App Store and log in with your Google account on your new iPhone. This will provide immediate access to your emails, photos, documents, and more.
Transferring Contacts: If you're only looking to move your contacts, you don't necessarily need the Move to iOS app. Simply back up your contacts to your Google account on your Android device, then log in to that account on your iPhone. Your contacts will sync automatically.
Data Safety: While transferring data, it's crucial to ensure that both devices are adequately charged or connected to a power source. This is to prevent any data loss that might occur if either device runs out of battery in the middle of the transfer.
Final Thoughts
Transferring data between different operating systems may seem like a complex task, but with the right tools and instructions, it can be relatively simple and quick. Whether it's a move to experience the new offerings of the other platform, or simply because you've got a new phone, the transition from Android to iPhone can be smooth and worry-free.
This comprehensive guide has aimed to provide clear, step-by-step instructions on how to go about this process. We hope this journey marks the beginning of an exciting new chapter in your tech-savvy life.